Ube Cassava Cake 2021-01-31 19:50:04
Ube Cassava Cake is a delicious mash-up of two Filipino dessert favorites! With creamy ube halaya nestled in a cheesy cassava cake,  it's the ultimate sweet treat!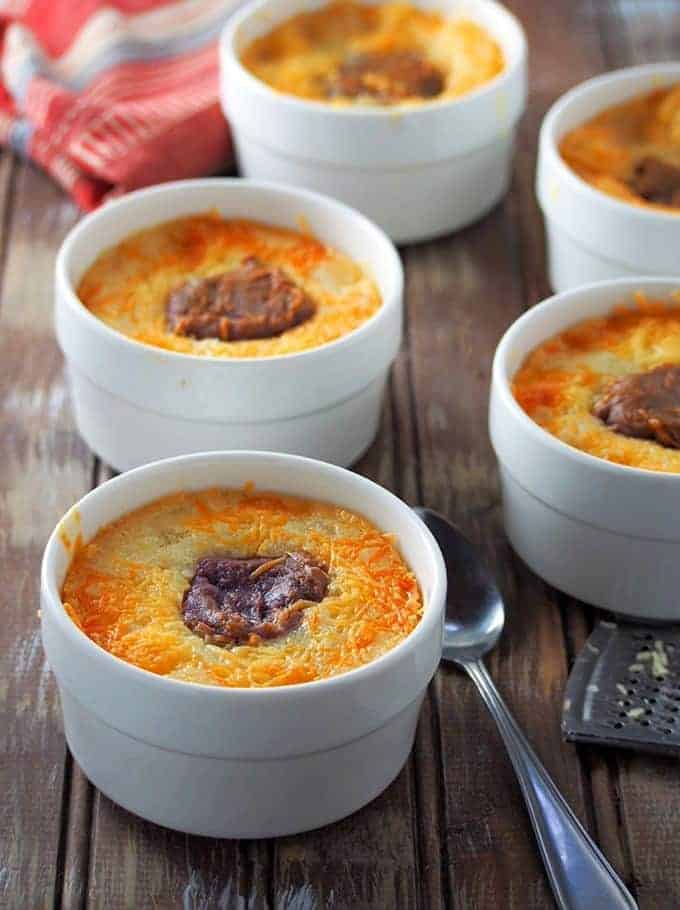 Hello guys! I am Sanna, and I am back to share another very special dessert. 
Can't decide between cassava cake and ube halaya this coming holiday season? Then today's Ube Cassava Cake recipe is perfect for you!
There's no need to choose because we're combining these two Filipino favorites into one mouth-watering treat.  With soft cassava cake and creamy ube halaya in every bite, these mini cassa-ube cakes are the best of both worlds!
Cooking steps
Making the ube halaya
In a wide, heavy-bottomed pan over medium heat, combine grated ube, condensed milk, evaporated milk, coconut milk, sugar, and butter. Bring the mixture to a boil while stirring often until the butter is melted and the ube is well dispersed into the mixture.
Stir in ube extract until it is distributed equally.
 Lower the heat and continue to cook, stirring regularly, or until a sticky dough forms. Add the cheese and stir until melted.
Continue to cook for another 10 to 15 minutes or until it's thick and pulls away from the sides of the pan.
Transfer mixture into lightly-greased llanara or container and cool completely.
Making the cassava mixture
Thaw frozen grated cassava completely but do not drain.
If using fresh cassava, peel the roots and finely grate the flesh using the small holes of a food grater or a food processor. Place the grated cassava in cheesecloth or cotton cloth and squeeze to rid of the liquid. You'll need 4 cups of grated cassava.
In a large bowl, combine thawed grated cassava, condensed milk, coconut milk, macapuno strings, and sugar. If using fresh cassava, add ¼ cup water to the mixture.
Stir until well-incorporated.
Making the cassava ube cake
Lightly grease one-cup size ramekins with melted butter or coconut oil.
Ladle the cassava mixture into the prepared ramekins up to ¾ full.
Scoop about 1 tablespoon ube halaya and place in the center of the cassava mixture, pressing down lightly. Top with another scoop of ube halaya, making sure it's visible and not completely submerged in the cassava mixture.
Sprinkle shredded cheese on top of the cassava, being careful not to cover the ube completely.
Arrange the ramekins in a single layer on a baking sheet and bake in a 375 F oven for 30-35 minutes or until a toothpick inserted in the cassava comes out clean.
These cassava ube cakes can be enjoyed warm from the oven or chilled in the refrigerator before serving.
To store, cover each ramekin with plastic wrap and refrigerate for up to three days for maximum freshness.  T0 give them out as gifts or to sell,  bake in small disposable aluminum pans.
This delicious dessert mash-up is sure to be a party hit. Looking for more ways to wow your guests this holiday season? Try Floating Island cake and Graham de Leche Flan!
Some Pop Ads may appear 1 or 2 times they are spammy just close them and enjoy.
Ube Cassava Cake Watch online HD free
Watch
Kiss Asian
here. Kiss Asian shows are being updated based on the exact theme released on the official website and the videos will be shared on the official website. We caught up with them, and they had no problem.